Right-click upon different places on the Flowchart opens different options in right-click menu that greatly help during creating a scenario.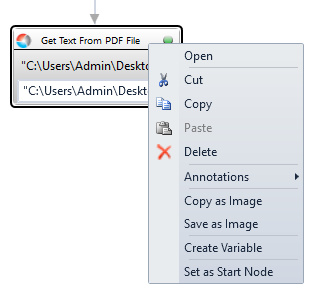 Set as Start Node immediately sets chosen activity as a first activity of the scenario, without necessity of hand drawing an arrow from Start to activity.
There are two commands connected with an image of the full flowchart: Save as Image opens a window Save as to choose the place where to save the Main Scenario Flowchart.jpg file. Copy as image copies such .jpg file to system clipboard.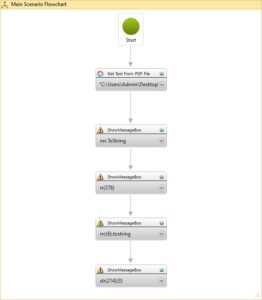 The Annotations opens submenu that allows to handle with little yellow notes.
Right-click upon title bar of any activity shows Create Variable command. Choosing this option immediately opens Variable bar, with the cursor set in Name column.
Open option simply opens the activity, so is helpful mostly with activities from Flow Control group or Database group, replacing the double click.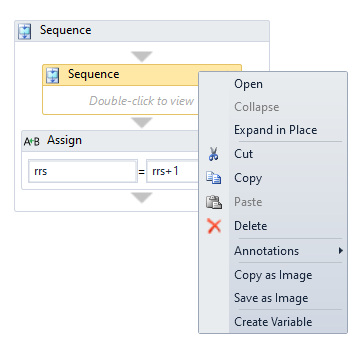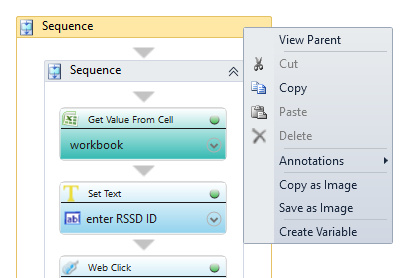 There are commands in right-click menu that help in situation, when activities from Flow Control group are nested one in other multiple times: Open / Collapse / Expand in Place / View Parent. Expand in Place allows you to get such a view onscreen – all nested layers are shown in one place (while open/double clicking the DoWhile or Sequence activities opens only this one activity removing the rest from the screen).
There are two commands: Show All Conditions and Hide All Conditions. They work with Flowchart Tools: Flow Decision and both Flow Switch.